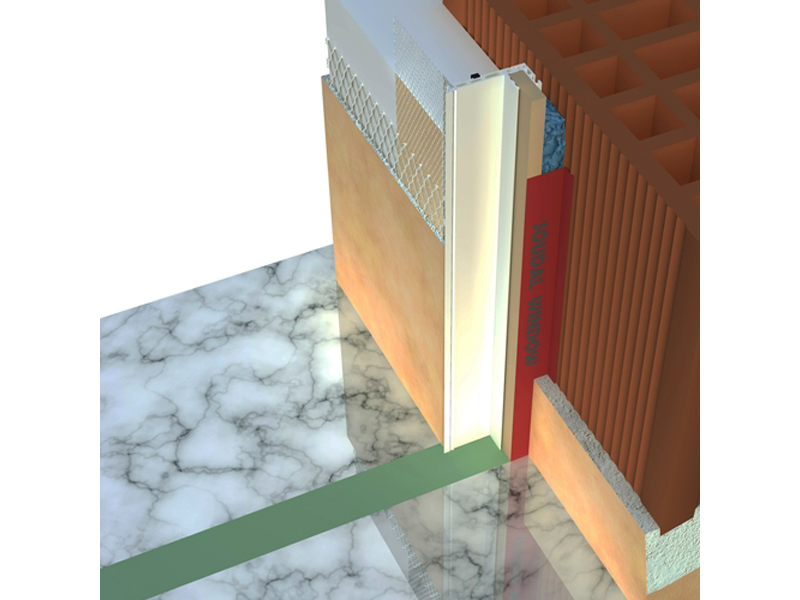 Designed to eliminate thermal bridges at window nodes, offering the thermal characteristics that the market demands.
Created to be used with an innovative installation system and applying a mesh to prevent cracking, these profiles have a concealed hollow for sealing, a profile for the application of the outside strip and a surface that can accommodate a self-expanding seal: in other words, these profiles offer everything needed for prime quality installation.
The DF foam or wood inserts in the counterframe are built according to window dimensions, with or without screens, offering a space for application of the interior steam-lock strips.
Conceived to be versatile and easy to process, they can be supplied custom or in bars to optimized use and avoid wastes. Suitable gaskets make it possible to use the entire profile. 90° brackets at the corners ensure sturdy joining to the frame.
The C1 SUPER, used with DF & SWS installation systems by Soudal, has undergone water tightness testing as per UNI EN 1027/00 and UNI EN 12208/01, achieving results that can fully meet any demand.
De Faveri can also provide thermal insulation for window sills, produced using recycled materials, high density foam or, alternatively, total insulation on the 4th side (see 4th data sheet).